About Us
Who We Are
DIY Degree helps self-motivated and career-minded students graduate faster by self-directing their education.
Our community was born in 2012 after DIY Degree's founder (Jay Cross) clashed with the college system. When Jay's university stopped offering the classes he needed to graduate, he embarked upon a personal quest to accelerate his bachelor's degree. Determined to find a solution, Jay discovered that students could teach themselves and "test out" of their classes while saving thousands of dollars in the process.
Six months later — after graduating debt-free – Jay launched DIYDegree.com as a community resource for ambitious college acceleration. We've since helped thousands of students, been featured in the national media and become a unique voice in higher education.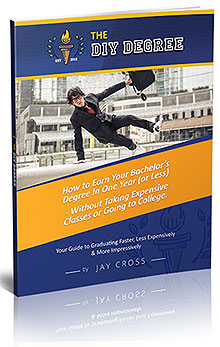 Who We Serve
DIY Degree is for students who are serious about graduating extremely quickly, saving lots of money and becoming irresistible to employers, including…
Ambitious teens and twenty-somethings who teach themselves for fun.
Busy adults who want to advance their careers without having to "go back to school".
Students who know the monopolistic "factory line" college system definitely isn't for them.
If you are willing to work smarter for the results that most people never achieve, DIY Degree is the place for you.
What We Do
For students who qualify, DIY Degree provides a completely unique degree acceleration service that arms you with everything you need to finish college quickly without breaking the bank.
Contact Us